Green Coaching path by e-mail

«Who am I?
Who is here with me on Earth?
What can we do together, useful to life?»
Ecopsychology invites you to know yourself, to value your dormant potentialities and to use your personal power in the service of life. The world needs you, wake up and act!
Ecocentering is a well-established training program of awareness – used in the business, in the relationship of help and in the professional preparation of counselor, coach and ecotuner – to know yourself better, make friends with yourself and encourage reconnection with your "nature inside ", as a premise to facilitate the process of individuation and self-realization in others.
It is an exploration of your interoried landscapes with the same open and admired gaze that you could have towards a boundless land to explore and an opportunity for in-depth dialogue with yourself, to know the Planet Io, its inhabitants and , above all the Lord / Lady of the Planet, the leader able to lead you, in life, wherever you can and want to arrive.
Structure
Ecocentering is a path of personal growth, it is not a therapy group. It provides information, exercises and opportunities for inner communication and sharing on topics that will then be deepened, translated into practice and coached by everyone in their own time and pace. It offers tools and opportunities to do work on oneself in order to better draw on the resources necessary to become a good ecotuner, counselor, educator, parent, friend, lover… a good Earthling.
14 lessons sent by e-mail, with exercises to do individually.
Send every 10 days; or, on request, at a personalized pace.
Ability to share answers and opinions with other students of the course through a dedicated forum, on Networking Planet, the online study center of Ecopsiché, monitored by tutors.
Possibility to talk via email with the tutor and to share with her the "Travel Diary".
Custom departures! You can start the course whenever you want.

Ecocentering is inspired by Psychosynthesis, Ecopsychology and Transpersonal Psychology, integrating them with each other.
It is divided into three phases:
CENTERING, self-knowledge:
"What do I want from life?"
TUNING, the meeting with others:
"What do I need to do my best?"
WIDENING, the concrete expression of one's potential:
"What does life want from me?"
Program
4 elements, 4 brains – A map for inner exploration
Planet Me – Open your eyes on your nature
The population – The thousand facets of personality
International relations – Activating and conducting internal dialogue
The center of power – Will as a coordinating faculty
Mission and vision – Giving direction and looking forward
Resources – Talents and potential
The encounter with other creatures – Emotional intelligence
The language of responsibility – Conscious use of the word
The deception of mirrors – Withdraw projections
Authenticity in action – Recognize one's own vocation
Freedom of attitude – draw energy from the source
Card of values – Looking upwards
The project for the future – From saying to doing
Forum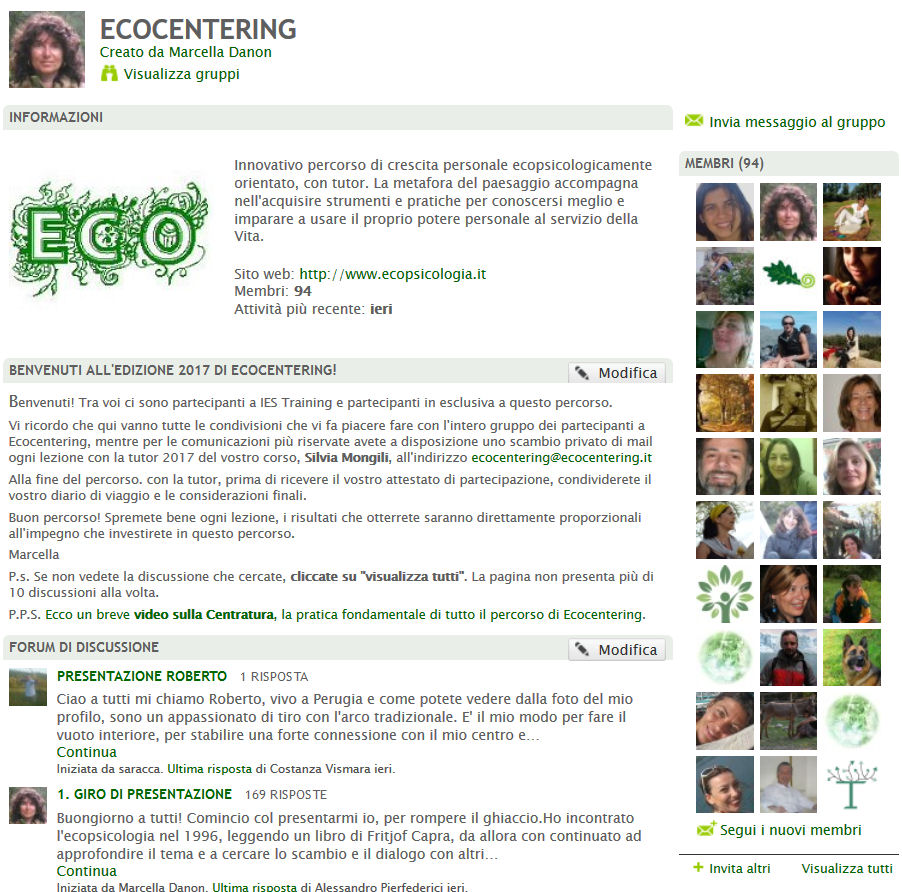 Tis is  "Networking Planet" – one of the two online Ecopsiché Studies Center – the Social Network on which there is the virtual classroom of the Ecocentering Course.
Investment
€ 460 euros including vat/iva (= € 377 + vat/iva)
The course will be activated upon receipt of the completed registration form and bank transfer.
History of the Course
This course was born in 2007 to allow participation in a path of personal growth even at a distance.
It was designed and implemented by  Marcella Danon, after four years of experience, with the Model Centering, in the business environment.
Acknowledgments
A certificate of participation, for a professional update of 48 hours, will be issued, upon request, to those who have participated in at least 10 discussions on the forum and will share with the tutor the Travel Diary at the end of the course.
"Ecocentering" is recognized by the Italian profesional Association for Counselors, AssoCounseling, and holds 24 credits for professional training and personal work for counselors. The Course is also one of the modules of the IES Training and Green Coaching courses.
If you want, you can access the whole Training in EcoTuning, EcoCounseling and/or Green Coaching after this seminar. The amount invested will be fully discounted by the total amount (within 12 months, or 50% after this deadline).
Inscription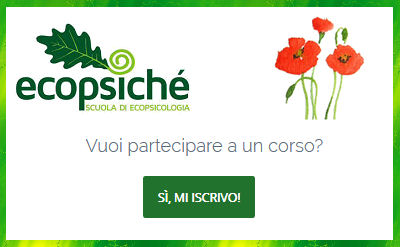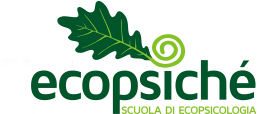 Here are the other courses by email of Ecopsiché:
Introduzione all'Ecopsicologia in italiano